We speak with a lot of organizations and agencies alike that have a "needed this person yesterday," urgency for niche MarTech talent. But even though this sense of urgency exists, there's usually friction to get started because the additional investment of working with a recruiting firm wasn't reflected within their original hiring budget. So we're breaking down how to budget for, justify the cost of, and even prove the ROI of partnering with an external recruiting firm to reduce decision makers' concerns of the additional investment.
Properly Budget to

Partner with

an External Recruiter
The best advice we can give any client is to anticipate searching for your new hire(s) a quarter ahead of where you anticipate business spiking, and reflect initial fees in your hiring budgets accordingly. Often, the lead time alone is needed to find the right-fit candidate, and this will help you allocate funds to partner with a recruiting team ahead of the curve vs. only allocating funds for when your new hire hits the payroll.
Plan to allocate around $5,000 or more as an initial engagement fee to have an external recruiter begin your search. Anticipate this expense 1-2 months ahead of your goal hire date, then allocate for a 20-30% fee of your new hire's annual salary to bill within the month of their start date.


Justifying the Cost of an External Recruiter
We know what you're thinking… I already have to budget a much higher compensation than prior years in order to get the level of MarTech talent I'm looking for. Now adding 20-30% on top of that number eats into my headcount. We completely understand that. But, allow us to break down the cost of recruiting internally vs. partnering with a recruiter. Chances are, you're already "spending" this amount.
>Soft costs of using internal resources to recruit top talent:
If you already have an HR team or People Operations function, consider what they could be doing with their time to improve employee satisfaction and retention if they were focused on learning and development, culture, career development, total rewards, and more vs. recruiting? Actively recruiting would become at least 50% of their role, costing you 50% (at minimum) of their salary to pull them off other efforts that can grow your business and teams. Focusing your internal resources on people retention will reduce your turnover and need to replace key contributors, allowing your talent acquisition efforts to be focused primarily on growth-oriented roles vs. replacements.

If you do not have a dedicated PeopleOps resource, consider the amount of time you'll be investing in other internal resources to lead the job listing as well as the amount of time it will take them to look through applications, screen candidates, and schedule interviews. In the screening stage alone your resource will need to screen at least 10 ideal applicants for 30 minutes each in order to find around 2-4 prime candidates.

Then consider the cost of the hiring manager and hiring committee's time spent with second and third round candidates (one hour X 2-4 candidates X each FTEs hourly rate to be pulled out of the business X 2 rounds).

Finally, consider the cost of having these resources pulled away from driving the company forward, and generating and/or retaining revenue.


>Additional hard costs associated with building your in house recruiting function:
If you do not have a dedicated People Operations function and are considering hiring for this role, be prepared to budget between $70k-$115k for a People Operations Manager. The investment is well worth it as this level of candidate is traditionally more of an HR generalist with talent acquisition experience. However, if you plan to utilize this resource for recruiting, be prepared to reduce their capacity to 50% for other HR functions when they're actively recruiting.

Applicant tracking systems (ATSs) are also a critical investment in order to manage job postings and application submissions. These systems provide the capability to list to job boards and your website, collaborate with the hiring committee, filter through candidates, and automate follow-up for more streamlined communication and scheduling, allowing for a better candidate experience. The cost to implement an ATS can range from $1,500-$6,000 a year for small companies. The cost can be upwards of $10,000, $25,000+ for mid-large companies, and can climb up to six figures a year for enterprise organizations.

Another cost to recruit is paying to boost your job listings on different platforms and job boards. Paid spend has proven to increase your quality of candidates three-fold. Usually, you'll want to budget no less than $500-$1,000/mo per job listing to draw in more qualified candidates.
Considering all of the soft and hard costs associated with recruiting in-house, it's easily justifiable to keep your internal resources focused on delivering value to the organization, while an external recruiter delivers more high-value candidates due to their existing network. But we don't think you should only have to justify the cost, let's talk about your return.
Understanding the ROI of Investing in an External Recruiter
The biggest contributing factors to your bottom line in working with an external recruiter are the caliber of candidates that they can bring to the table, and the velocity in which they work. Your business will see short-term ROI from the speed in which they can recruit, and long-term ROI in their ability to provide your team with a stronger candidate.
For example, in an agency setting, if you pay a recruiter X% of a more seasoned hire's salary, but that candidate is client-facing, and can deliver X% more capacity than a junior-level candidate, then you can increase the anticipated revenue this role can manage, helping to scale your team and improve client retention rates. And chances are a more strategic, tenured client-facing talent can cross and up sell as well, bringing in more revenue.This ensures that investing in a higher caliber candidate and paying a recruiting fee more than pays for itself in the long run.
Now we probably have you asking why external recruiters are able to boast the ability to bring in higher caliber candidates. The answer is simple. Our business is to continuously cultivate a community of candidates within our niche ecosystems, and our time is dedicated to finding passive candidates vs. waiting for candidates to apply. Some recruiting firms simply repost your job listing, but HubSearch for instance prides itself on building a database of candidates.
Actively searching candidates only make up for about 30% of the global workforce, leaving you with a much smaller talent pool. With recruiting firms, we're actively leveraging outbound recruiting strategies to bring your opportunity to passive candidates, which make up for 70% of the global workforce, providing you with a much bigger pool of candidates. Most often, these passive candidates are highly sought after top performers that aren't looking to exit their current position unless the right opportunity and advancement presents itself.
Don't Churn and Burn in the first 60-90 days
Did you know that churning a new hire can cost you 1 to 2x their salary? That's 1 to 2x the initial salary allocated, an empty seat to fill (again), and your internal resources starting over on recruiting.

So when you're shopping for a recruiting firm, ask if they have a guarantee period. For instance, we don't stop at the offer letter. We support you and your selected candidate through their onboarding phase, and offer you a 90-day guarantee. That's an extra safety net to ensure that you're getting that dream candidate you paid for, and white-glove service.


Selecting Your Path
Deciding whether to take on job searches in house or to hire an external recruiter is a major business decision. But it's paramount for you to consider that the hard and soft costs to build an internal recruiting engine can range up to 1-2x your ideal candidates' salary vs. 20-30% of said salary to work with an external recruiter.
Beyond the investment, we also understand that trusting an external party as an extension of your brand, and to properly hire for culture fit is no small feat. So beyond the cost factor of your decision making, we also highly recommend analyzing a recruiting firm's values alignment with your organization's, their understanding of your business and niche talent needs, and the level of partnership they offer as part of their pricing.

We'd love the opportunity to prove we're the right-fit partner for you.


About HubSearch
MarTech is complex. Hiring MarTech experts and strategists should not be. We're here to help through our 6-step delivery process. HubSearch is the leading recruiter devoted to building exceptional teams for organizations and agency partners running complex Tech Stacks inclusive of CRMs such as, but not limited to: HubSpot, Salesforce, Marketo, Eloqua, Zoho, Klaviyo, Microsoft Dynamics, Pardot, Monday.com. We integrate with your team and deliver the type of deep value you'd expect from an in-house talent acquisition team.
Our simple 6-step delivery process explained


01 Discovery Call
Booking your Discovery Call with us is the first step toward an amazing new hire! Your team needs to grow, but your current recruiting strategies are falling short. During this 30-minute call, we'll discuss your hiring needs and goals, the HubSearch delivery, pricing models and next steps.


02 Launch
Launch is all about data gathering, expectation setting and alignment. Through our Launch process, we will gather all the information needed to build and execute a tailor-made interview and sourcing strategy.


03 Activation
Go time! The heavy-lifting begins and we get to work activating and engaging candidates. We don't deal in applicants and we will never re-post your job. Our role is to interview and introduce you to candidates who would never have otherwise applied.


04 Interview
HubSearch recruiters are expert interviewers and we conduct the first-round interview. We build custom screenings for each search based on skill and culture fit. When a candidate passes our interview, we book them directly on your calendar for the next round. You and your team simply show up and get us feedback. We handle everything else.


05 Offer & Close
We've found your hire! We work with you to build a closing strategy, and handle every part of the offer and closing process. Once we secure a signed offer letter, we walk your new teammate step-by-step through giving notice and their exit to ensure a seamless transition.


06 Onboarding & Retention Plan
Our job isn't done once your new teammate starts. We take pride in going above and beyond for our clients which includes Talent Program Consulting services at no additional cost. Smooth onboarding, retention planning, performance measurement strategy, etc. We have become your talent acquisition team and you can count on us to help you protect your investment in your team.


We Stand Behind Our Work with a 90 Day Guarantee
If your new hire chooses to resign or is terminated in the first 90 days, we'll restart our search. Book a no-strings consultation to learn more.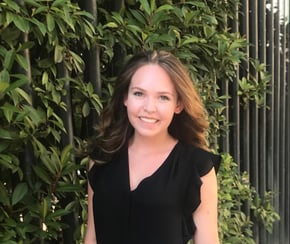 Jordan Wingo
Jordan is a Senior Growth Advisor at HubSearch. She's passionate about helping businesses grow and is a proud cat mom.