The employee lifecycle - also referred to as the employee journey or employee experience - is a phrase used to describe what your team members feel, see, and are exposed to at different stages of involvement with your company.
So what exactly does the employee lifecycle include? At the highest level, it's every moment from how someone first finds out about your company through (and beyond) when they exit. Although there are an endless number of visuals depicting the employee lifecycle, the Culture Amp model breaks down the entire process into easily bucketed moments: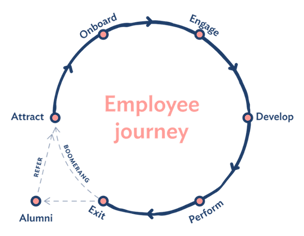 Let's take a look at each part of the lifecycle and key moments to build in to create engagement:
Attract - This is your only shot at creating a first impression. How are you getting candidates to look for you, and what do they see when they find you? How does the process feel as they apply, interview, and await their potential offer? What are current or former team members saying about the company? Are you transparent about values, compensation, benefits, and expectations in job descriptions and interviews?
At this stage, it's critical to take into consideration everything a candidate will discover as they engage with your team during the hiring process and as they do their own research, whether that's scoping out your Careers page and Culture handbook, reading GlassDoor reviews or asking their network what they've heard about your organization.
Onboard - Both pre-boarding - the time between an accepted offer and a new hire's first day - and onboarding (typically viewed as the first 90 days on the job) fall into the Onboarding bucket in the model above. During this critical time, your new team member should be very consistently, actively, and clearly getting an understanding of the culture of your team, how communication happens, and what initial expectations are for the first few months. Immersion and relationship building are key to a successful onboarding experience, as is an open dialogue with their direct manager as they continue to ramp up.
Consider adding in an onboarding mentor or buddy to provide another level of support for a new hire; set up (and stick to!) consistent 1:1 touch bases with your new team member where they drive the conversation and agenda; provide ample opportunity for them to test waters, provide suggestions for improvements, and find their voice on their team. A 30/60/90 Day Plan, clearly written and visited often, is a critical asset to provide for a positive onboarding experience.
Engage - Engagement starts all the way back at Attraction, but for the most part, this portion of the employee lifecycle journey refers to how to keep your great talent once they have been hired and onboarded. To keep your staff engaged, you need to first empower them to share feedback. Engagement surveys provide a safe way to capture and analyze the sentiments of your team members. Many tools provide analytics and reporting functions to then dive deep: do new team members have a different sense of the culture than those who have been at the company for 3+ years? Does a certain department or manager have a less engaged team? Do the women in your company feel they have equal opportunity for growth as the men do? These questions will drive your People Operations strategy and goals, and without soliciting feedback directly from your team, your assumptions and priorities may not align with the actual concerns of your employees.
Develop - At some point, every person in your organization will want to know what growth looks like in their role. Where can they go? How do they get there? What does that look like? Create and provide opportunities throughout an employee's lifecycle to grow and develop. Have a cross-functional team provide monthly or quarterly Lunch and Learns; consider adding a Learning and Development stipend into your budget; have your team add a personal development goal in addition to performance goals for themselves; or set aside an hour each week company-wide that is free of meetings so employees can dedicate the time to their own growth.
Also included in the development stage is how an individual develops as a member of their functional team, department, and the organization as a whole. When and why priorities shift and how they take on additional responsibilities should all look and feel intentional. Similarly, how leadership communicates will drive what the overall development of teams and culture looks like.
Perform - Performance evaluations can take on many looks - some are informal and others are very well built out. Some companies look at performance annually, others quarterly, and some based on a milestone like an individual's work anniversary. Regardless of your company's specific process and strategy, how you talk about, evaluate, and communicate regarding performance plays an important role in your organization's People health.
Employees want to feel fairly evaluated; like they have a direct voice in their evaluation; and that they are recognized for the work and achievement they've accomplished. Promotions should be celebrated and communicated out, not shoved under the rug. Work anniversaries should be, as well. This stage also includes performance improvement - when an employee needs to demonstrate a marked improvement in their ability to successfully carry out their role. Documentation, clear expectations, multiple levels of support, and - most importantly - empathy, all need to be present when working on coaching a struggling team member.
Exit - Even the most people-centered, inclusive, and supportive companies will have people leave. It's not always about a new opportunity, more growth, or better benefits - there are an endless number of reasons a team member may choose to leave, and it's critical that their last impression as an active employee feels and looks just as great as their previous ones.
Exit interviews and exit surveys are two ways to capture why employees may choose to leave. This data can provide valuable insight - are people leaving less than 6 months after they start? You probably need to look at your onboarding plan and what you're pitching in the interview process vs what they experience once they start. Do you have a noticeable increase in exits around 2 years into a role? That could signal a real or perceived lack of career progression.
This is also the moment where your employees can get closure and share their experience in a safe setting - which can minimize the chance they'll do so publicly on an employer review site instead.

Alumni - Many companies think an employee's last day signifies the end of their employee journey. And while that may be true in some aspects, keeping your alumni engaged with your company is beneficial.
Alumni who have had good experiences are more likely to become brand ambassadors - advocating for and recommending their network to look at joining your team. Their positive word of mouth can keep your reputation highly regarded in your industry. Similarly, the idea of Boomerang Employees - team members who leave a company but then return after some time away - can also solidify your company's standing in the market and can provide unique perspectives.
To begin working on an alumni experience, start small. Perhaps you create a monthly newsletter you can send to recent alumni, or you host a quarterly alumni social networking event.
Final Thoughts
As companies shift from traditional HR to People Operations, the employee lifecycle needs to be center stage to find, keep, and grow your team. Every stage offers unique moments and opportunities to delight your team members - or disappoint them. Ensure your People Operations team is always returning to the employee lifecycle as they design, build, and run their programs.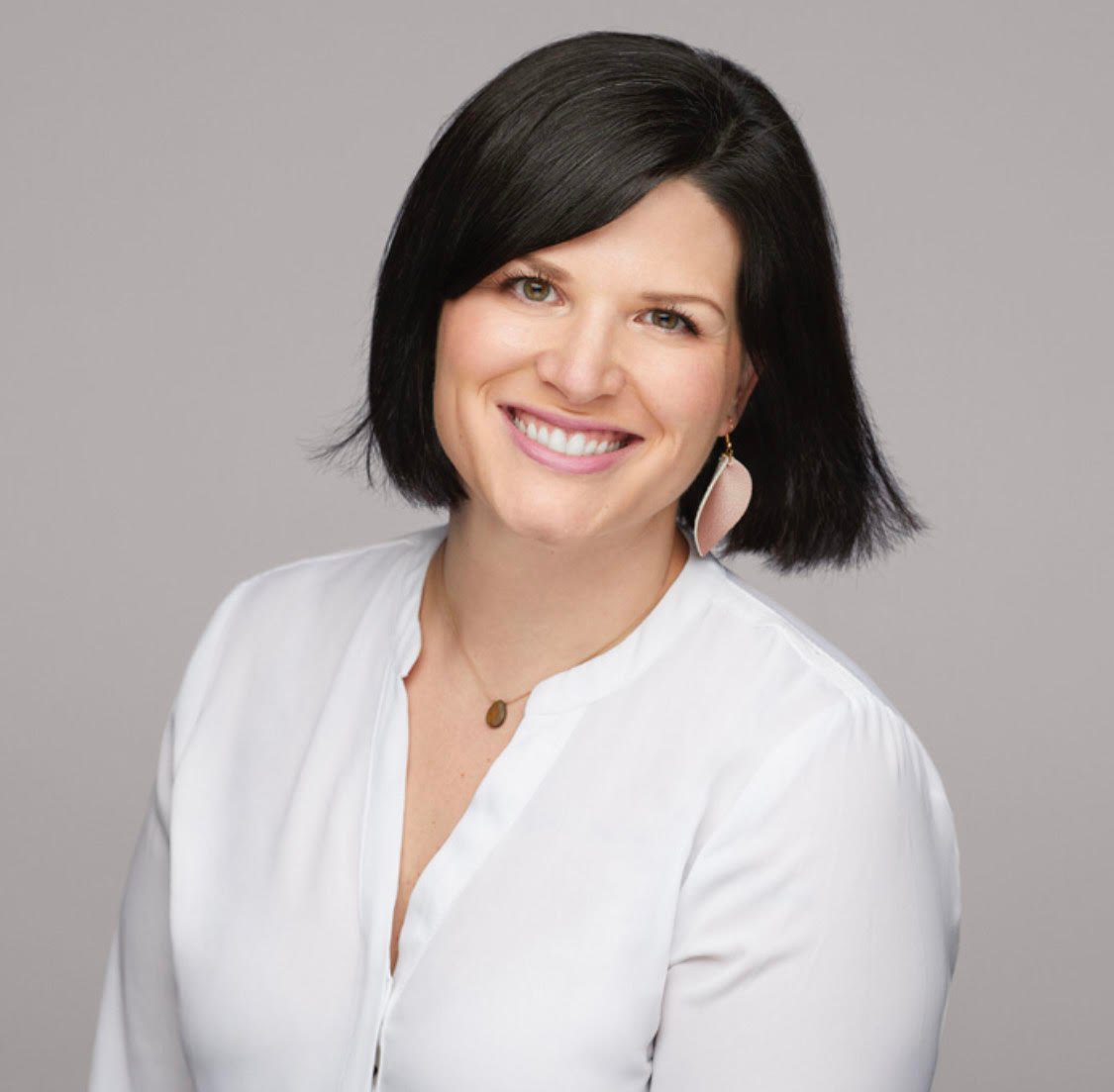 Lisa Bischoff
Lisa is the Program Manager for HubSearch's Employee Retention and People Operations offering. Her background is in designing and implementing employee experiences and strategies that create highly engaged and happy team members.